Galaxy Cleopatra - Tray or Wall Decor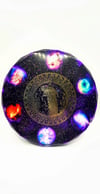 This ancient Egyptian galaxy piece can be used as a mini tray, large coaster or for wall decor and features a beautiful facet edge. This piece is perfect to also use as a crystal energy grid on your altar!
Décor tip: use a command strip to hang this mystical piece on your wall.
Rubber stoppers have been placed on the bottom to protect table top surfaces.
Dimensions:
4.75 inches in length
0.25 inches in height